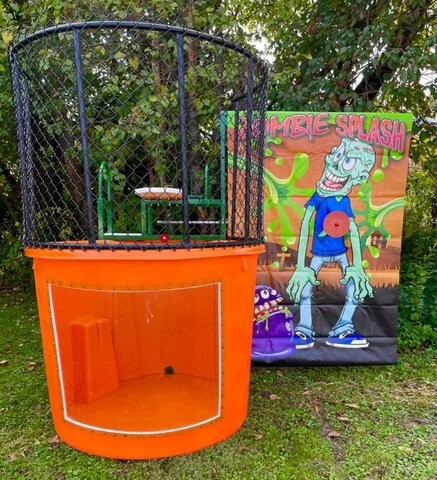 Zombie Splash Dunk Tank
Add that splash of fun on your spooky-themed events with Zombie Splash Dunk Tank rental. You can use dunk tanks on a variety of events. From carnivals to bridal showers, from charity fundraisers to Halloween –Zombie dunk tank rentals are famous in Florida. It is a timeless part of any party.
An adventurous addition to your party
Zombie splash dunk is perfect for those who are into adventure. This huge dunk holds up to 5 gallons of water and is strictly for adults only. Amazing for those who want to party and have the excitement of doing something new too. Get it now through Ocala party rentals and arrange a daring party for your friends now.
Ready to get dunk?
Get ready for hilarious entertainment with this fantastic zombie-themed splash dunk tank. Get it for your upcoming event from the best Ocala bounce rentals, but wait, check out some amazing discounts exclusive for Ocala, Florida.